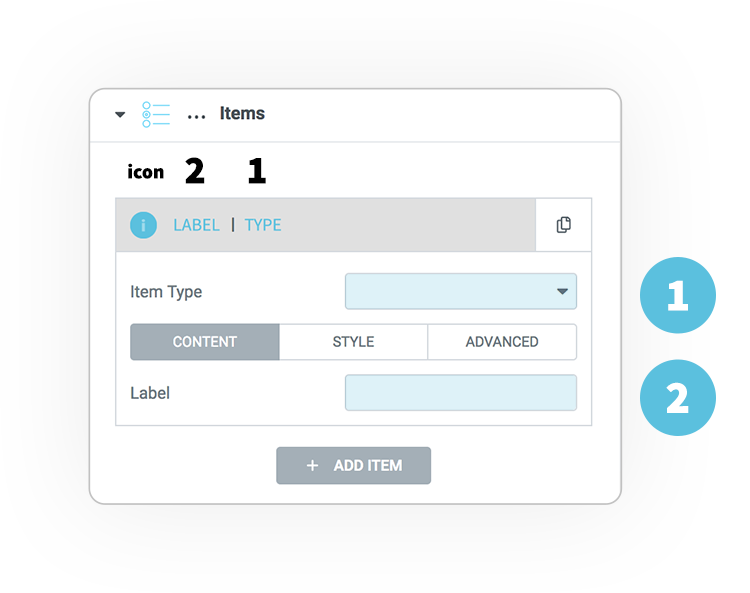 To control the elements there are 3 tabs to manage CONTENT, STYLE, and ADVANCED options.
The control of the characteristics according to the selected type.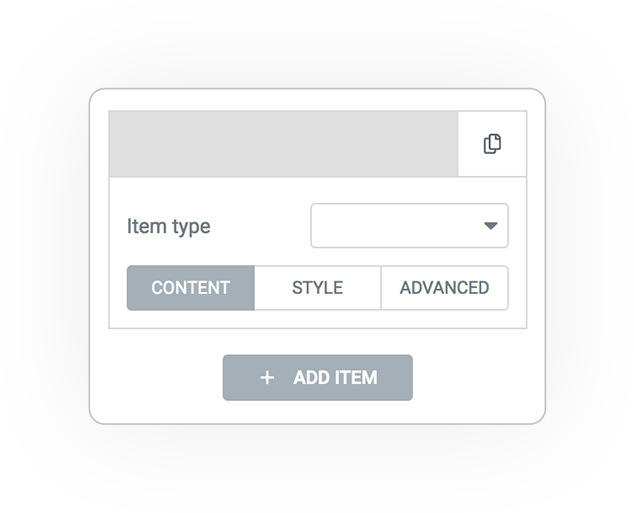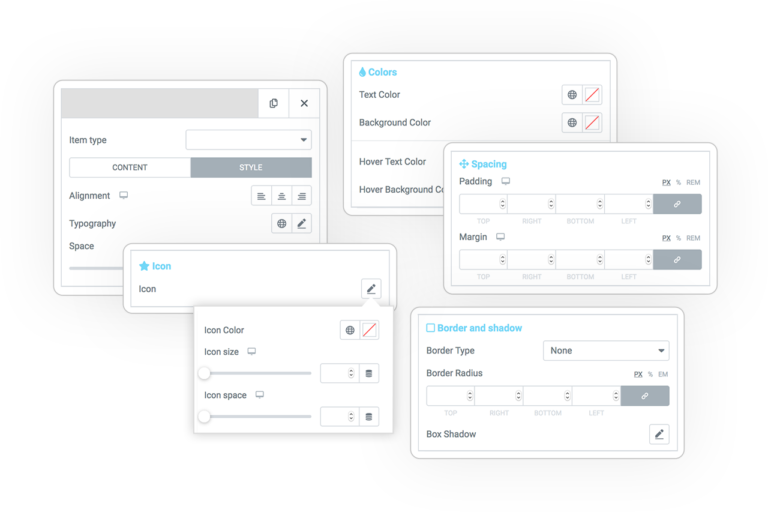 Every graphic aspect:
colors
spacing
alignments
dimensions
border and shadow
For every
image
text
background
icon
container
Additional and behavior factors such as: link, display method (block or inline) and displaying the label before the element.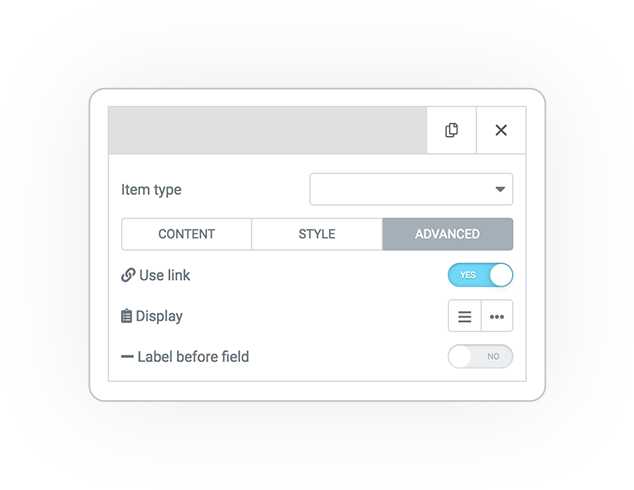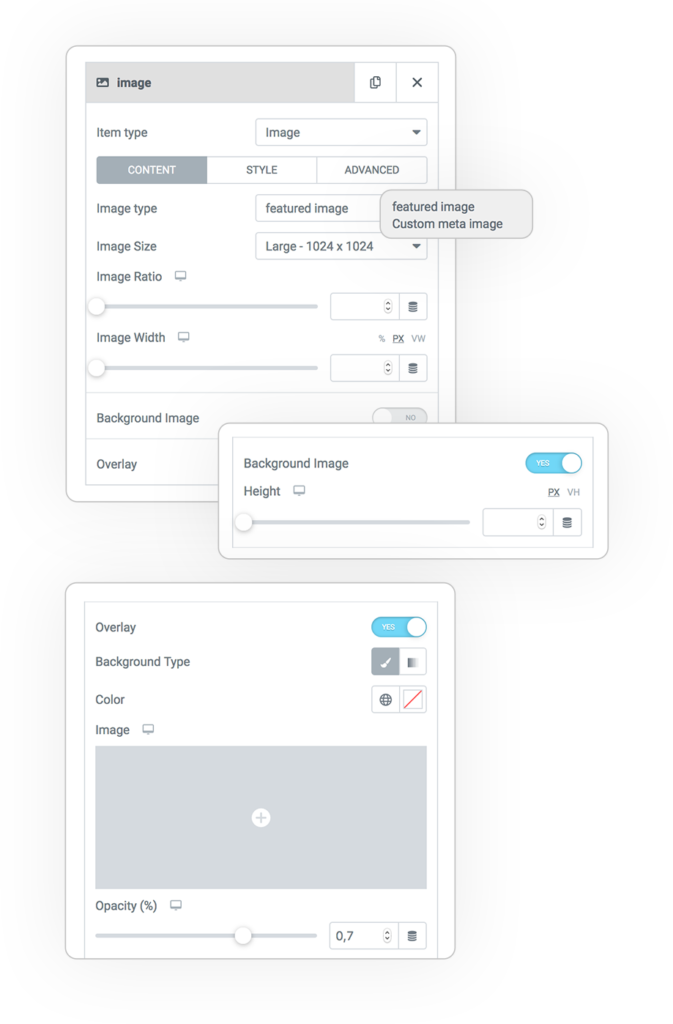 Image type
Normally a post image is defined as the "Featured image". But you can also choose a custom meta image.
Image Size
The size of the cropped image.
Image Ratio
The width ratio that transforms the container.
Image Width
Custom width.
Background image 
Turn the image into a background to stretch it over the container. Alternatively change its height.
Overlay
An overlay element based on color or another image, very interesting if you use a graphic design.
HTML Tag
The html semantics for the title.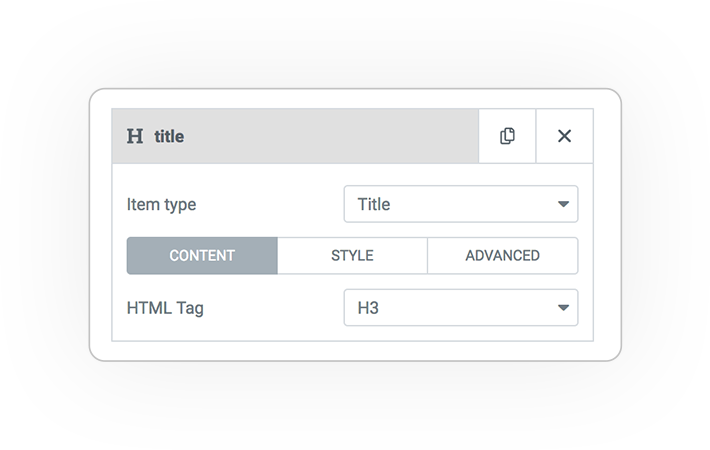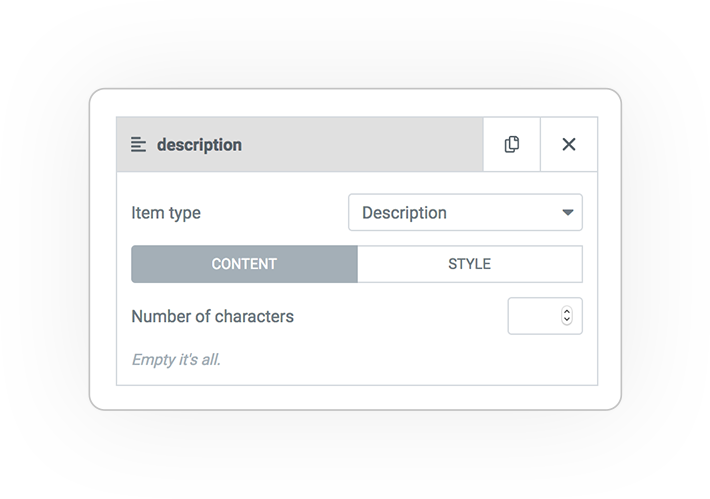 The description of the term.
Number of characters
Limit the length.
The name of the Taxonomy Archive.
Label
The format name of the related taxonomy.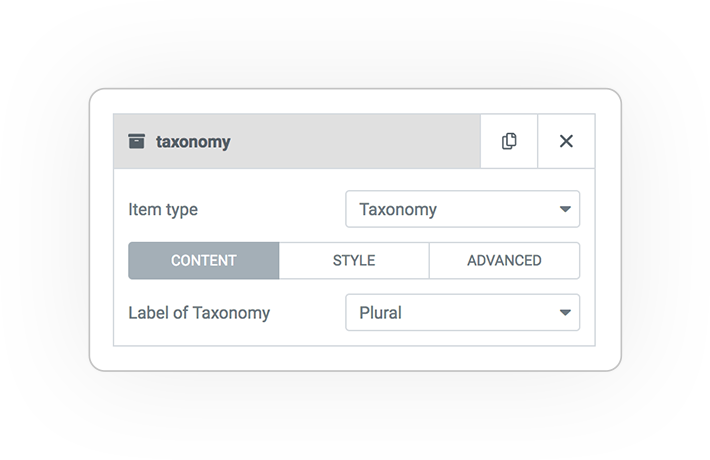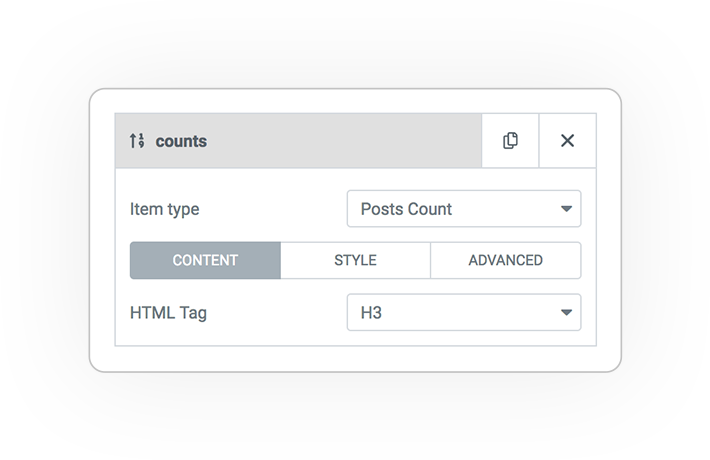 The number of posts associated with this term.
HTML Tag
The html semantics for the number.
Insert custom fields based on type.
Meta Field
The key of the field.
Render field Type
Based on the field type you are going to display, define the render type.
image
oEmbed
Date
Text, textarea
Button
Map
File
Array: Posts, Users, Terms, Gallery
Array string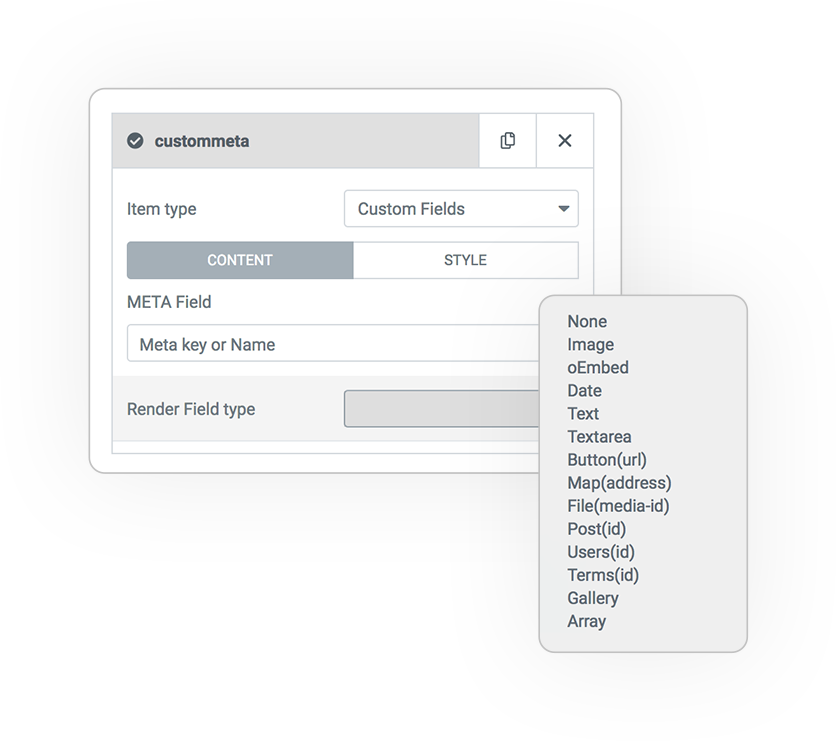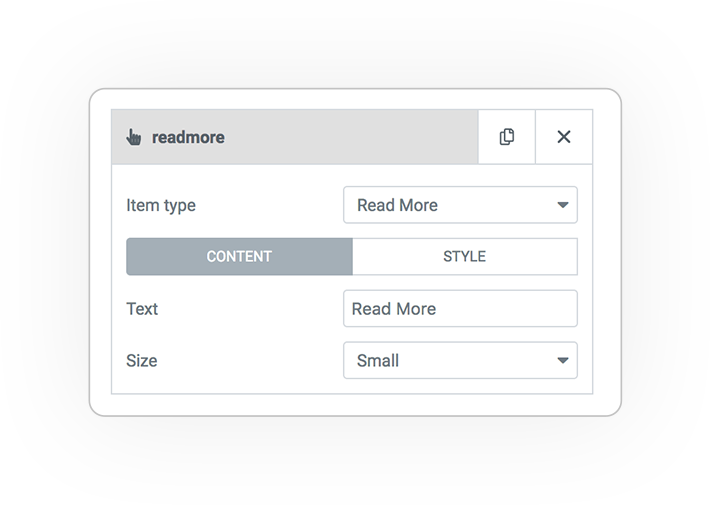 A button that gives you precise access to the post.
Text
The label text of the button.
Size
The size of the button.
Style
Many styles allow you to customize it.
Add custom content, whether static or dynamic, of various types:
Text
Image
Icon
Textarea
HTML Code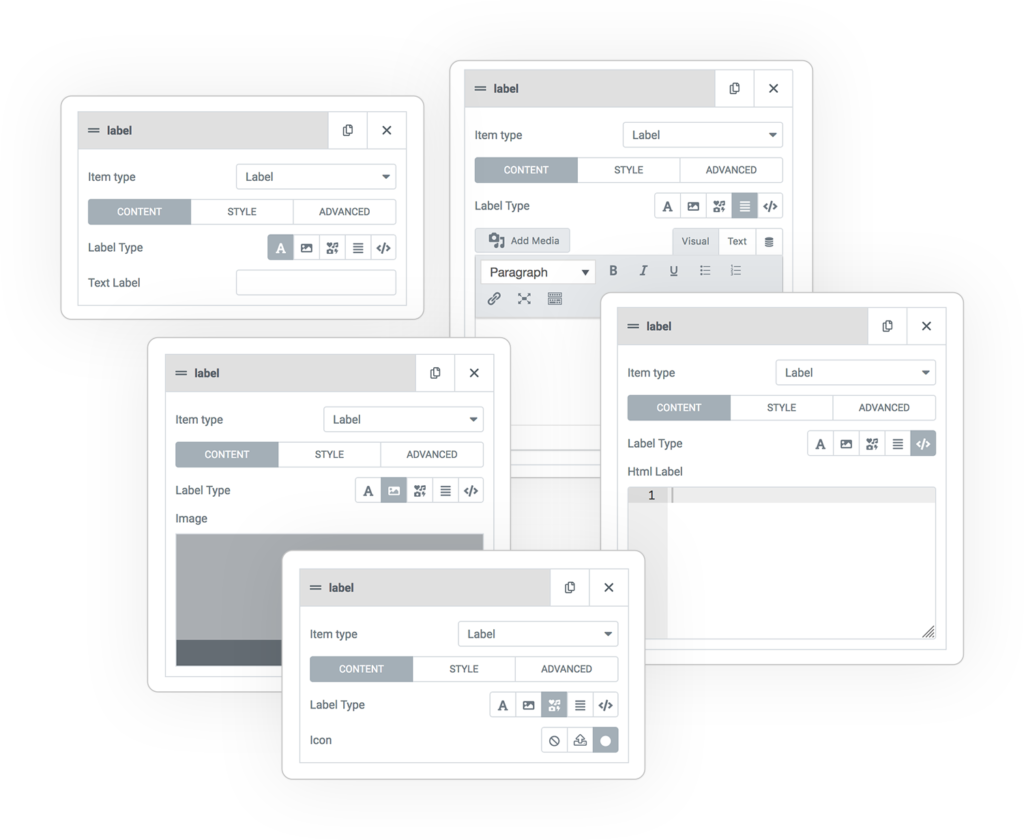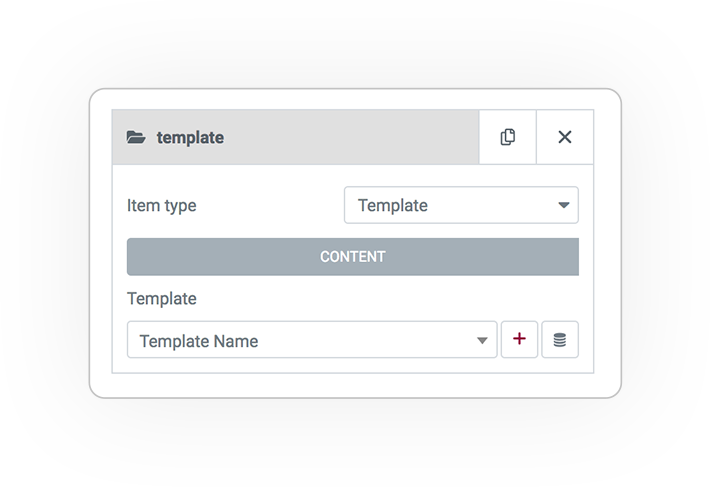 Insert an Elementor Template as an item, made exactly the way you want it.
We recommend you consider Dynamic Tag Editor for dynamic content management.