Thanks to the wizard guide, you can insert dynamic content easily and with no limits
Easily print the dynamic content value of any WordPress Object trough the wizard
Add Your Heading Text Here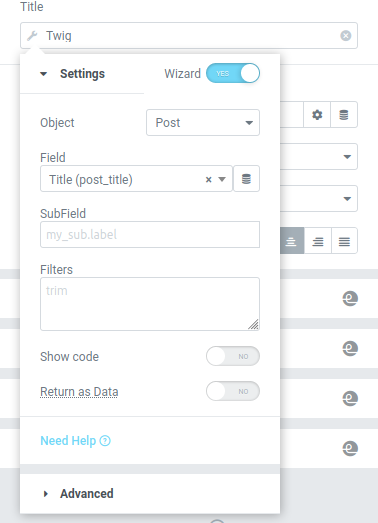 Wizard
If enabled you could generate the Twig code filling up the available controls. If you know Twig you can disable it and write manually your own code.
Object
The main WP object you want to retrieve data from.
Field
The main field of the object you want to display.
SubField
Maybe if the field is a complex data (an array) you can show only a subfield. Separate keys by a dot ".".
Source
You can fetch data from a specific Post (or Term or User), instead from the current one, selecting it from the search field
Filters
Optionally apply all Twig filters separated by a "|".
Show Code
Display the original code instead of its value, useful to understand how Twig shortcodes works.
Return as Data
Only on some Controls (like Media) is mandatory enable this option.