Immediately see a summary of the information you are entering while filling multistep forms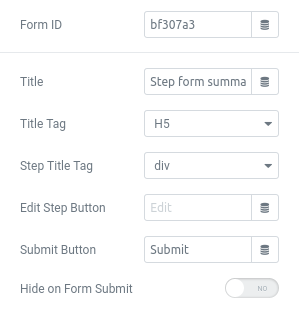 Form ID
Set the Elementor Element unique ID of the form you want to track inserted fields.
Get it with a right click on Form and Copy ID (#) button on the contextual menu.

Title
An optional title above the summary
Step Title Tag
You can change the wrapper tag around the step titles
Edit Step Button
Let you translate the label of quick button to return on previous step
Submit Button
An extra Submit Form button which appear on the last step, leave empty to not generate it
It optionally can hide the summary after submission
Step Summary Style
In Style Tab you can find a new Section specific for Step Summary. There are all classic style controls to customize labels, values, edit and submit buttons inside the Summary.

If you have many steps it provide a full report on entered values