Take full control of form data by saving it where it's needed.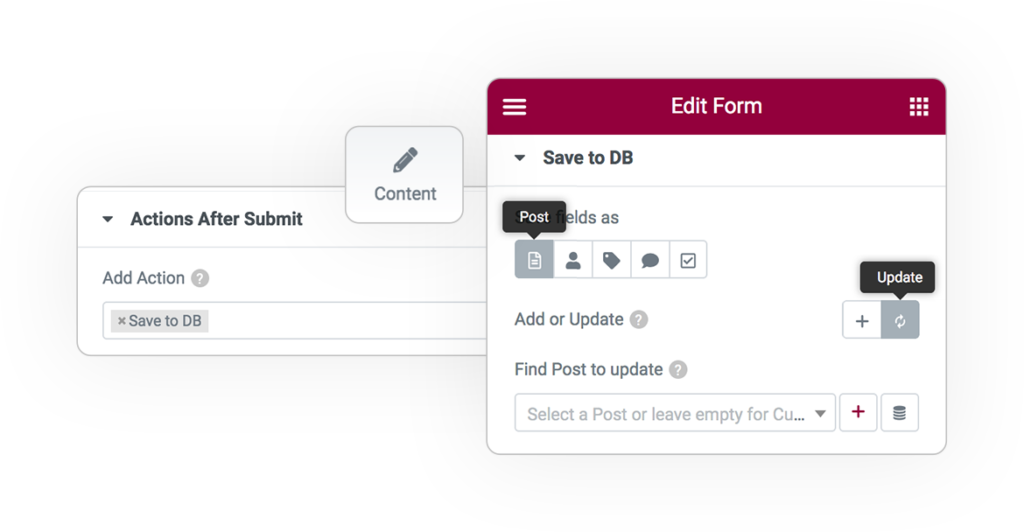 Save submitted Form data to DB

Your Form fields will be stored in default WordPress tables:
Post
Term
User
Comment
Option
So you will find and manage easily this saved data from the standard Admin area.
Add or Update
Create a new record in DB or update an existing one, selected by you or automatically identified by current context.
HINT
Every WordPress object need a specific configuration ad mandatory data, so you can set them dynamically using standard Form Field Shortcodes (for example [field id="field_name"]) inside the configuration Control field.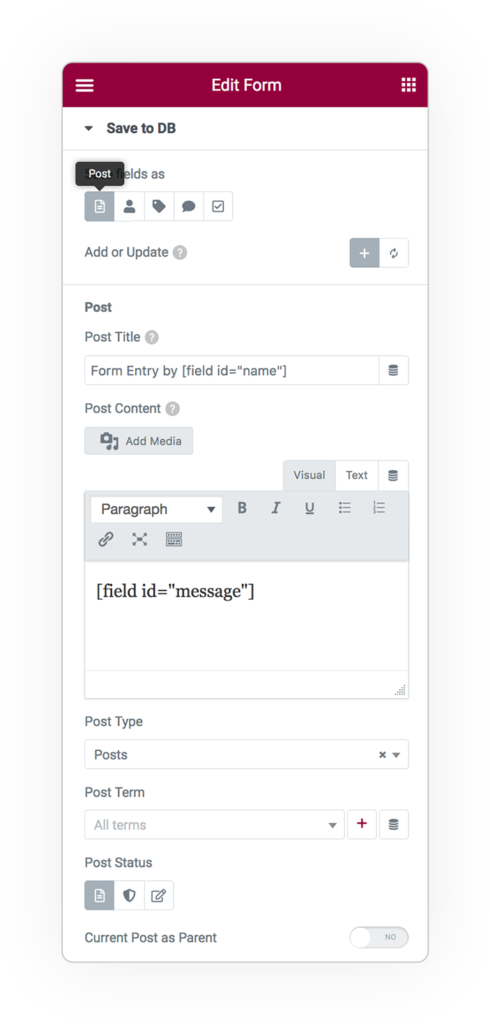 Save as Post (also Page) is the solution to let your Users create new posts on your blog from frontend.
Post Title
The main title of the Post, you can create it dynamically with one or more Form fields.

Post Content
Use standard Form shortcodes, you can use classic HTML.
Hint: you can set the content of a WYSIWYG Form Field provided by e-addons.
Post Type
You can leave default Posts, or provide your Custom Post Type. You can create new one CPT with free plugins (like PODS, CPTUI, etc).
Post Term
The saved Post will be automatically related to this optional Term.
Post Status
The initial status of the Post:

Current Post as Parent
Useful in hierarchical Post Type to set the new Post as children of Current Page. The new Post will be related to current one.
Create a Registration Form and Profile Update Form in a easy and custom way.
UserName
The unique user name, it should be lowercase and with only in [1-9a-z_]
Leave it empty for an automatic creation.

User Email
This is also a unique field. An error will reported if the user already exist.
Use standard Form shortcodes to set the provided by the User in the form.
User Password
You can set a static password, the same for each user, or use shortcodes for a custom one. Leave it empty for an automatic password creation, the user can reset it a recovery from his email.
User Role
Set the initial Role for this User, you can select it from the existing roles.
Auto Login
If a Visitor submit the Form, then he will be automatically logged in as new User.

User registration Error Message
The message display if exists an User with same Email.

Stop Actions on Error
If it goes to error (user already exist) then display the Error and ignore other next Form Actions.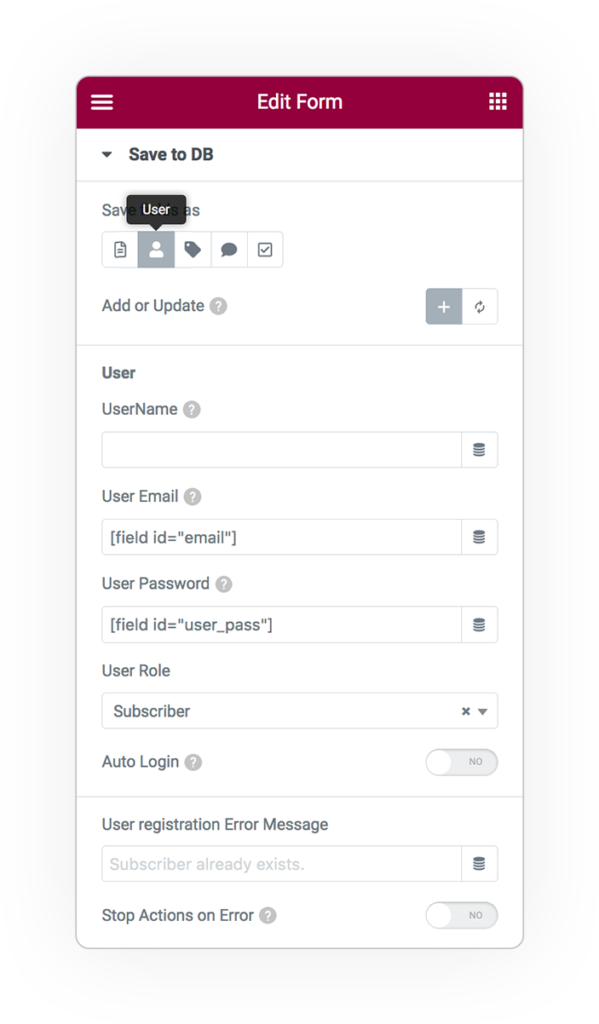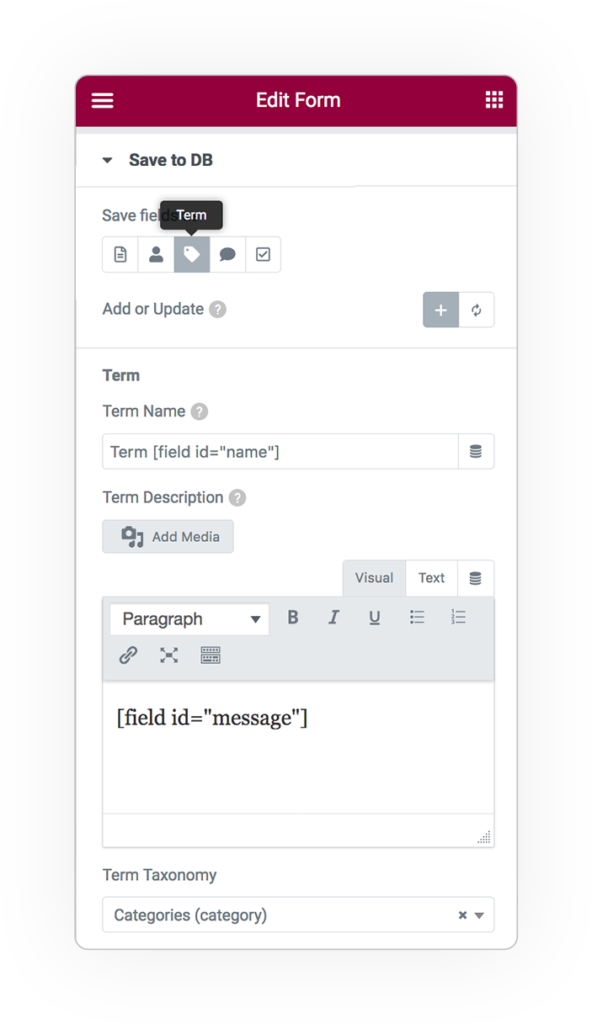 Create easily a new Taxonomy Terms from Frontend.
Term  Name
The visibile name of the Term, the slug will be automatically generated

Term Description
An optional description of the Term. You can use HTML notation.

Term Taxonomy
The Taxonomy of the Term will be related with.
Create a custom Form for User Comments on your Posts.
Comment Content
The main content of the Comment, here goes what your visitor want to say.
You can optionally use HTML using a WYSIWYG Form field provided by e-addons.

Author Name/Email/Url
Some optional Author info.
Use a mix of static text and Form shortcodes or leave empty for automatic setup from logged in User.
Comment Approved
The Comment initial status will be set  as Approved. By default it's set as Pending.
Comment Type
You can create a new kind of Comment, for a different scope.
The default type is "comment", so leave it as default if you are not a developer.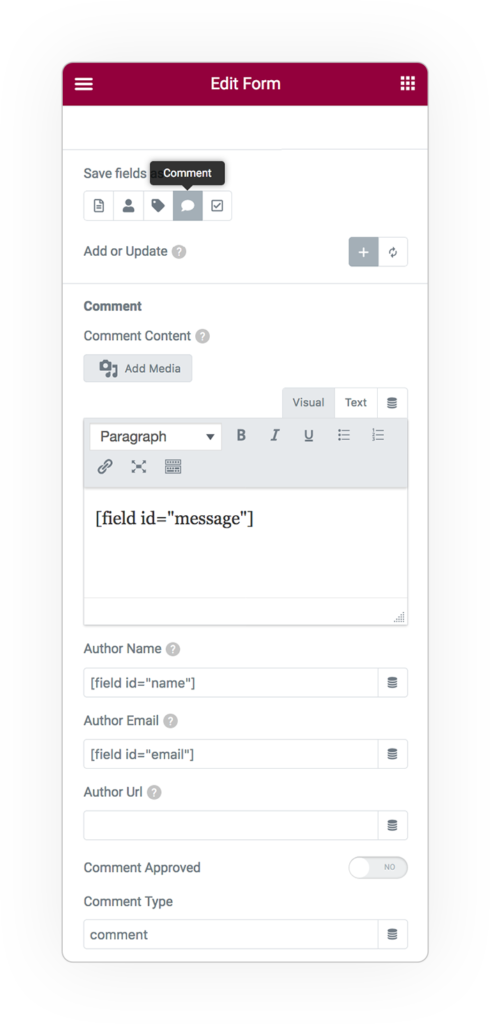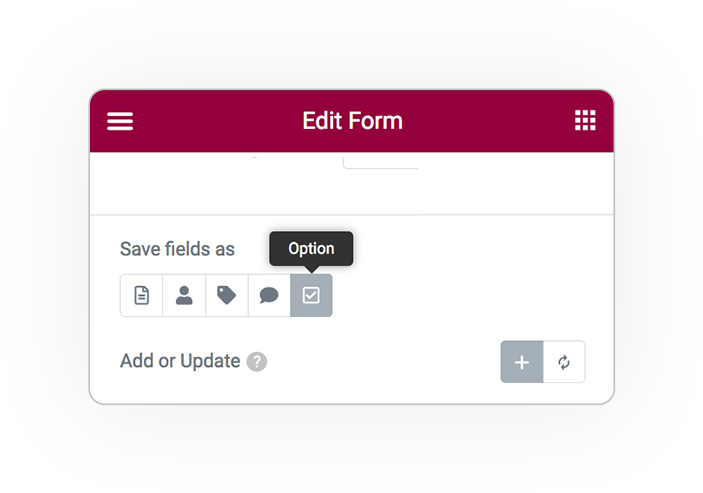 Save each Form Field as global site Option.
Very useful to manage Theme Settings from frontend.
Ignore Empty fields
Prevents the creation of unnecessary rows in the database.
Save File as Media
Every Uploaded file will be saved as Media, and will be stored in DB its ID and not only the path.
Save Multiple as Array
Transform the submitted multiple data from values separated by a comma in a more convenient Array
Save Extra data
Add extra User info, like IP, referrer and current ID. It could not be admitted for Privacy settings.
Fields as Meta
All the extra Form Fields will be stored as object Meta Field with the field custom_id as key.
You can choose only what fields save and ignore the others, or leave empty (or No field) to save all fields.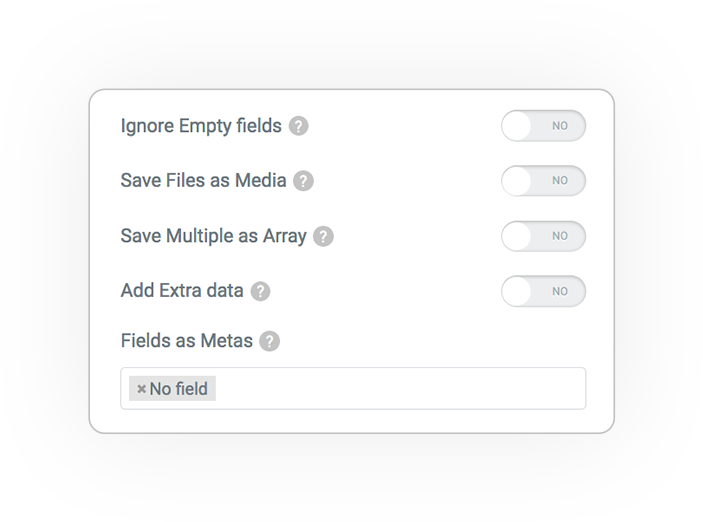 Save your contact in a dedicated CPT or Comment,
because email can be lost,
but the data remain saved in your DB